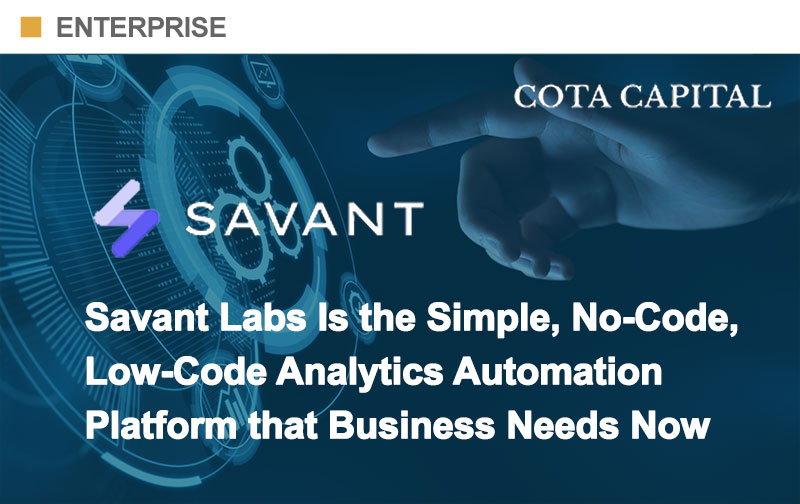 By Bobby Yazdani, founder and managing partner, Cota Capital
Despite all the progress made in the data analytics space over the last decade, it's still extremely hard for regular business folks to get the answers they need—when they need them—from modern data sources and applications. This is a big problem because, these days, executives and non-technical businesspeople need to be able to tap into modern SaaS apps and data sources at a moment's notice to quickly get insights—without relying on data science experts for every new question.
The reality is that business users aren't data scientists. And it can be extremely cumbersome and time-consuming for them to gather data from multiple sources and ensure that it is normalized and formatted for analysis. In addition, running different types of analyses on the data and iterating on the results to achieve the desired outcome can be a slow and painful process. Ultimately, the act of requesting, refining, and analyzing data can be a massive headache for even expert analysts and almost impossible for business users. 
That's exactly why we invested in Savant Labs, an all-in-one low-code, no-code automation platform for data access, data prep, data blending, analytics and automated delivery of insights. From marketing data sources, to sales, RevOps, HR and recruiting systems, customer service apps, and financial data in Excel, Savant Labs puts the business analyst in the driver's seat, without needing an expert co-pilot. The platform features over 200+ data sources that can be accessed in minutes, analytics workflows that can be created with 300+ drag-and-drop widgets, and bot-driven insights that can be delivered to 100 destinations. 
As one customer, Arrive Logistics, said, "it's been a game-changer and we activate insights daily at lightning-fast speeds." 
With Savant Labs, creating workflows is simple. Savant's bot-powered platform can access data, process it, and deliver insights to any business app or visualization tool in a matter of minutes. The data is normalized, allowing users to perform analysis on it and identify trends. Savant Labs also enables users to train models using a dataset to detect emerging patterns. The best part is that all of these tasks can be accomplished without data experts or specialized data science skills. With Savant Labs, the tasks can be done in a very human way and even a typical business analyst can use the tool to perform the tasks with ease.
That's a huge leap forward from where we stand now. Today, data analysts are often left to their own devices when it comes to running analytics and making day-to-day decisions. According to IDC, there are approximately 78 million data workers worldwide who are advanced spreadsheet and SQL users—and they spend an average of 37% of their time each week on repetitive manual data tasks. These tasks can require thousands of hours of work and cost businesses billions of dollars in lost efficiency and growth potential.
Savant Labs tackles this problem. It's designed for data-driven businesses that don't necessarily have their own team of data scientists or technical experts in-house. It brings best-in-class analytics automation and data science methodologies and approaches to the mid-market.
Savant Labs enables expert data analytics—without experts
Savant Labs is addressing this critical need at just the right time. The trend around the accumulation and assembly of data is now in full swing. The need to deliver insights not just to BI tools but to any application of choice, even Slack, Teams, or to marketing, sales, or customer service applications, is essential.  As is the need to nimbly create dataflows and automate analytics workflows in a simple and engaging experience in minutes or hours, versus waiting days and weeks. The platform's automation power—coupled with innovation in user experience from the point of connecting to data sources, to creating and automating a workflow, to leveraging built-in bots for delivery of insights—is unique and essential to captivating the business user and making Savant Labs their go-to platform for daily analytics. 
Not only are businesses accumulating more data and asking new questions daily, they must also have access to that data in real time. To compete, they need analytical answers, and they need it now in order to make the right decisions and recommendations. In short, data is essential to driving innovation and growth in modern business. This shift toward data-driven decision-making has changed the way businesses are run—indeed, must be run. The ability to harness and interpret data quickly is now a critical competitive advantage.
Another important factor in our investment decision was the top-notch team behind Savant Labs. The company's founders have gained deep experience in analytics through their entrepreneurial journey at multiple successful companies, including Lattice Engines (acquired by D&B), Drawbridge (acquired by LinkedIn), Clearwell (acquired by Symantec), DataDomain (acquired by EMC), 3Par (IPO) and Hyperion (acquired by Oracle). The founders have an extensive understanding of the challenges facing businesses when it comes to data analytics and automation, and they're passionate about providing a solution to these challenges.
As the world becomes increasingly data-driven, businesses of all sizes need access to top-notch data analysis to make good decisions. We believe they can get it with Savant. With a compelling product and strong team, Savant Labs has the potential to become a leading player in the analytics automation space and is poised to create significant long-term value for its customers.