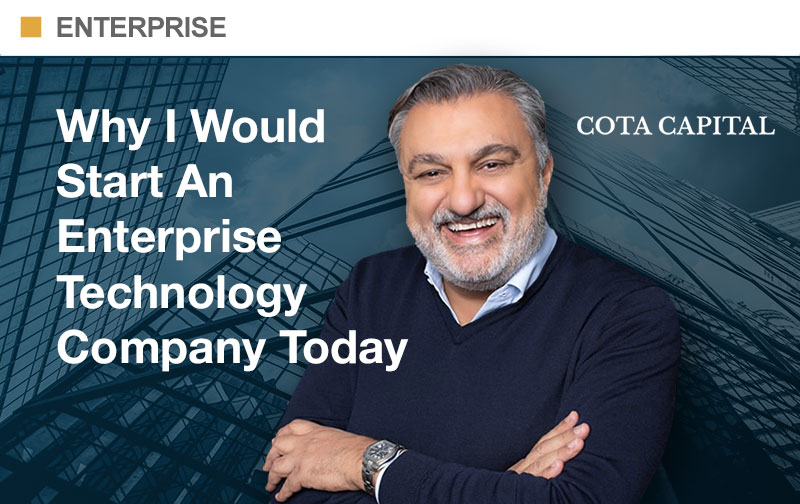 By Bobby Yazdani
, Founder & Partner, Cota Capital
A wave of pessimism has crashed over the technology industry recently. Layoffs, budget cuts, and declining public market technology stocks have led some to conclude that the current environment is inhospitable to new ventures. But this is the wrong outlook. 
As an entrepreneur and venture capitalist, my main gripe with this conclusion is that it may persuade budding entrepreneurs to forgo starting their new company or developing their new product. If this viewpoint is widely internalized and adopted, American innovation will be stifled. We need obsessive dreamers to change the world and move it forward.
It is the passion and perseverance of visionary entrepreneurs that drive innovation, enabling enterprises and governments to embrace new technologies, improve productivity, tackle new challenges, digitize operations, reduce costs, and enhance customer experiences. I am confident that this will continue to be the case in the future.
Incredible companies have been founded during down economic times; just look at Google, Salesforce, Dropbox, Uber and many more. Their founders were not deterred by the macroeconomic environment. The macro was irrelevant. The cycles were ON, and the dreamers were obsessed. They were committed to navigating challenges and remained undeterred. Founders today shouldn't be deterred, either. 
Now is actually the ideal time to start a technology company—especially an enterprise technology company. Here's why: We are in a unique moment in which three critical cycles are converging — the innovation cycle, the talent cycle, and the capital cycle — creating optimal conditions to build something new. Let's take a closer look at each of these cycles. 
The Technology Innovation Cycle
Technological innovation occurs in cycles. What we have witnessed thus far in the 21st century is that when new foundational technologies are introduced to the market—such as the internet, cloud computing, the smartphone and mobile computing—they begin new cycles that create exciting opportunities for disruptive products that build upon their foundations.
A great example is cloud computing. Cloud computing was a residual effect of the dot-com era. Entrepreneurs in the early 2000s identified the need to significantly improve computing and data storage services. And, by doing so, they fundamentally altered the way companies operate. 2008 was deemed "The Year of Cloud Computing" by WIRED Magazine, and we can point to several companies that were started at the beginning of the cycle and flourished. Look to VMware, which was founded in 1998, IPO'd in 2007, and is now in the process of being acquired by Broadcom. The cloud journeys of Oracle, Citrix, and RingCentral all tell a similar story. 
The rise of smartphones and mobile computing is another good example. The first iPhone came out in 2007, beginning its own technology innovation cycle. With it came the app revolution and a whole new market to serve. Uber was founded shortly after and has turned into a super app, redefining transportation and the food industry. Airbnb did the same, but for hospitality. Their founders identified the opportunities that came with the smartphone and seized them. 
Today, the world stands on the brink of another technological cycle that is being driven by three emerging forces. First and foremost, advances in core computing have paved the way for the introduction of GPUs, edge computing, next-gen networks, and fast data pipes, which are establishing a solid foundation for blazing-fast telecommunications. Specifically, the arrival of 5G, distributed, and private networks are creating hyper speed-level telecommunications that will serve as the bedrock for a new wave of technology. As connectivity levels soar, new methods for storing and processing vast amounts of data must be developed, leading to a demand for updated IT infrastructure.
Second, the arrival of new architectures is also playing a major role in this technological cycle. This includes the rise of serverless computing, continuous development, and embedded security. It also includes the growth of "Hard SaaS", which I define as the decoupling of cloud computing into a combination of edge computing and cloud computing. Hard SaaS will be pivotal as more and more commercial and consumer devices are connected to wireless networks to enable everything from smart cities to smart manufacturing. 
Finally, the coming of age of commercialized artificial intelligence is also core to this cycle. The availability of massive data sets, widespread AI capabilities, and the rise of bots and generative AI are poised to have a profound impact on the technology industry. We are seeing an exponential demand for AI solutions and predictive analytics to help improve everything from healthcare diagnostics to financial services products. Those who can develop AI-based solutions for age-old business problems will be handsomely rewarded.
The Capital Cycle
The amount of "dry powder," or unused funds raised by venture capitalists, has reached an all-time high. Venture investors in the United States are currently holding $290 billion in dry powder, according to the latest figures from the NVCA and Pitchbook. That capital is poised to fuel the growth of a new generation of technology startups. Venture investors have the potential to reap significant returns if they make wise investment decisions now, especially since valuations have significantly stabilized.
So where is that money going? One place it is no longer going is crypto and other highly speculative areas. In a more risk-off environment, venture funding tends to move towards areas with more stability and proven potential for growth and profitability, such as enterprise tech. Crypto, of course, can be inherently volatile and uncertain, making it less attractive to investors seeking more predictable, long-term returns.
I believe the bulk of this dry powder will increasingly flow towards high-barrier-to-entry innovation technology companies in the enterprise sector — and away from both crypto and consumer technologies. In the case of consumer companies, investors are turning their backs for several reasons. First, the economic downturn has caused consumer companies to face significant stress, particularly in terms of acquisition costs. This, combined with a desire for high return on investment, has led investors to favor non-consumer-based technologies over consumer technologies. After all, in this time of uncertainty, people are looking to invest in things that have significant ROI with incredible sources of revenue — and that means enterprise technology. People do not want to invest in vanity products and technologies.
It's also important to note that, as tech valuations have plummeted, the hype surrounding startups and entrepreneurs has waned, providing standout visionaries with a clearer path to tell their story and secure funding. Investors are now seeking stability and growth, moving away from traditional financial assets and toward businesses that hold strategic importance and promise a strong future. As such, enterprise technology, with its proven sources of revenue, has become a more attractive place to make investments.
My final point here is that, as venture capitalists become more discerning, the quality of companies getting launched is naturally superior. The competition for VC funding creates an environment that drives entrepreneurs to create higher-quality startups — ones that are well-conceived, well-structured, and more likely to succeed.
The Talent Cycle
Access to available capital and the start of a new technological cycle are two of the key factors that make today an excellent time to start an enterprise technology company. Workforce changes are also creating a more conducive environment for starting new companies and attracting top talent. 
We are in the midst of a cultural shift among the American workforce, especially in the technology sector. The "Great Resignation," catalyzed by the Covid-19 pandemic, is still ongoing and demonstrates this shift. Droves of highly qualified employees at top companies have resigned from their jobs. In 2021, 47 million Americans voluntarily quit their jobs. Around 50 million quit in 2022.
Workers are resigning for a variety of reasons. Some are leaving due to burnout or for higher-paying jobs. But many are in pursuit of opportunities they perceive as more meaningful, where they can have a greater personal impact. They are seeking roles that make a bigger contribution to society, environments that facilitate growth and learning, and work cultures that are more flexible and accommodating.
The macroeconomic environment is also creating a new pool of highly qualified professionals — and tech startups have a great opportunity to attract them. A staggering 140,000 tech workers were laid off in 2022 and 58,000 have been let go so far this year at tech giants like Facebook, Google, and Amazon. These layoffs are not just hitting entry level personnel. Many companies also restructuring their business models, eliminating middle management positions and pushing out those with ample experience to start a company or have a huge impact at a startup. Those same big firms aren't just slowing hiring, they are no longer offering the sky-high compensation packages they once did to win over top talent from other major companies. 
The market pullback has put startups in a better position to recruit — and to compete. Key revenue generators at major tech companies, such as ad sales for Meta and Google, are slowing down, reducing profits, and limiting funding for other innovation projects. Microsoft, Amazon, and others are shutting down research and development projects, eliminating positions focused on cutting edge products and making them less exciting places to work. The trailblazers at these large companies will seek opportunities at startups where they can actually build something from scratch, not just keep the lights on. 
Lastly, the pool of highly educated tech professionals with specialized skills will continue to grow in the coming years, largely due to the impacts of the pandemic and the economic slowdown which has pushed individuals to pursue graduate school. 2021 saw a 7.3 percent increase in graduate school applications and 4.3 percent in graduate school enrollment. 
Overall, the timing couldn't be better for true innovators to start something new or join something new. Already I've had discussions with several former director-level employees at top tech companies who were recently let go and are now founding their own startups — something that would have been less likely had their employers kept them. 
Taking the Leap 
It's no easy feat starting an enterprise technology company. There will be constant challenges along the way, from idea inception to product roll out. But there are few moments in time in which all the conditions are right — and now is one of them. 
The right technology innovation cycle is now, the talent cycle is now, and the capital cycle is now. There are VCs out there, like myself, ready and willing to invest in what I call "net-new" ideas that will change the way we do business. 
Entrepreneurs should not view today's challenged economy as a reason to hold off on pursuing their ideas but see the deeper trends and understand that now is the exact time they should be taking the leap.