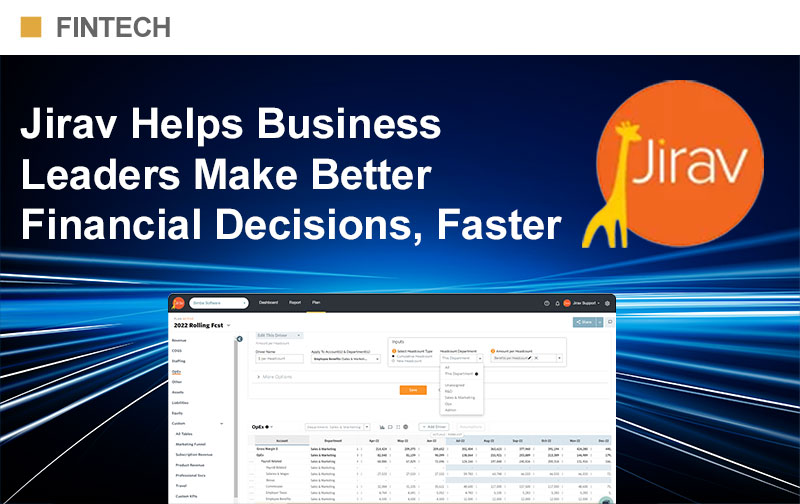 Jirav is an emerging leader in cloud-based financial software that provides all-in-one budgeting, forecasting, reporting, and dashboarding solutions that enable business leaders and finance professionals to make better-informed, data-driven decisions, faster. We're excited to share that Cota Capital invested $5 million in a Series B round, which was also joined by Information Venture Partners and CPA.com. 
During an era of rapidly shifting markets and changing economic conditions, successful businesses require financial tools that provide real-time reporting, rapid forecasting, and actionable insights to guide their hiring and investment decisions, manage their cash flow, and drive growth. For several years, numerous CFOs, small and medium-sized business (SMB) owners, and accounting professionals whom we've spoken with have all said the same thing: current SMB and mid-market accounting and finance offerings simply fall short in helping businesses navigate in today's complex and competitive business environment.   
Companies that rely upon spreadsheet solutions like Excel or Google Sheets, for example, often find that their spreadsheet-based financial model is only as strong as its weakest link. Modern spreadsheets enable collaboration, but they were never designed to provide rigorous process- or data-management. This can leave the financial planner with hours of tedious data-entry work, no way of knowing if key model formulas have become corrupted by collaborators and no easy way to determine if the inputs provided by the sales department are the baseline version or best-case version of the forecast. As a result, the finance team often spends countless extra hours gathering data, validating formulas, and managing the friction in the planning process.     
Spreadsheet-based planning plug-ins do make data importation easier, but they offer little or no help in preventing corruption or managing the process. Enterprise solutions like Adaptive Insights provide very effective tools for larger clients that manage both the data and the process, but these tools are far too expensive for millions of mid-market and SMB clients that need them. 
That's why we're thrilled to invest in Jirav, an all-in-one business planning solution built by financial professionals forfinancial professionals that fills this critical industry gap. Jirav provides a cloud-based, scalable, and repeatable structure that SMBs, accounting firms, and growth companies can rely on for instant budgeting, forecasting, planning, reporting, and dashboarding needs. 
But don't just take our word for it: 4000 businesses already use Jirav.  
Closed Loop, whose AI technology makes it easy for healthcare organizations to improve outcomes and reduce costs, is one of them. "I've been looking for this software for ten years, across multiple different startups," said CEO and co-founder Andrew Eye. "I wanted FP&A [financial planning and analysis] for growth companies that can integrate with QuickBooks and analyze plan versus actuals. Jirav does what a growth company needs."  
Jirav provides a comprehensive, capable, and highly scalable solution for mid-market and SMB companies. Jirav's cloud-based framework offers immediate access to three-statement financials, powerful reporting and planning capabilities, and key insights, including:   
Customized report packages 
Cash flow analysis 
Rolling forecast development
Sales and revenue projections 
Sales and workforce planning 
Capital expenditure modeling 
Forecast runway modeling
Departmental budgeting 
Expense allocation  
Jirav also easily integrates with the applications and solutions most used by businesses today, including:  
Accounting & Finance: Quickbooks, Xero, Netsuite, Sage Intacct, Shopify 
Payroll & Workforce: ADP, Gusto, Paychex, BambooHR, Justworks, Paylocity, TriNet, UKG 
CRM: HubSpot, Salesforce 
Data: Excel, Google Sheets, Jira, Snowflake 
What really sets Jirav apart, however, is the company's unique fit for accounting practices. During my time leading corporate development at Intuit, I learned firsthand about the importance of accountants. At the majority of mid-market and SMB firms, it's the accountants and financial advisors – not the CEO, business owner, or even CFO – who select and then operate the financial technology stack. Recognizing this, many progressive accounting practices are actively building client advisory services or CAS practices to provide financial planning and reporting for their clients.  
Unlike spreadsheet plug-ins, Jirav's cloud-based platform with data and process controls is exceptionally well suited to power a scalable and consistent CAS practice within an accounting firm. In fact, Jirav has been named a preferred CAS cloud solution by CPA.com, a subsidiary of the American Institute of CPAs and part of the Association of International Certified Public Accountants, founded to bring innovation to the accounting profession. This partnership has helped turn Jirav into a tool of choice for CPAs across the country – 16 of the top 100 accounting practices in the U.S. use the Jirav platform today.  
Jirav is revolutionizing the world of FP&A by offering a comprehensive platform that addresses the pain points of traditional financial planning and analysis processes. Through streamlined FP&A, intelligent financial intelligence, collaborative planning and reporting, and future-proofed automation, Jirav empowers finance professionals to drive informed decision-making and contribute to the financial success of their organizations. 
By implementing Jirav's powerful capabilities, growth businesses can gain a winning edge, transforming their FP&A functions into strategic assets, enabling them to navigate uncertainty, capitalize on new opportunities, and achieve critical financial goals in today's highly competitive and rapidly shifting landscape.