Thank you for joining us at Cota Connect 2023 
We'd like to thank our Cota Connect 2023 attendees, speakers, and sponsors. Our two-day event was filled with inspiring presentations and panel discussions, by Founders, CEOs, and industry leaders examining key market and technology trends. 
We were honored to have USC President Dr. Carol Folt as our keynote speaker sharing how USC is educating the technology leaders of the future to empower the technology innovation sector to have a positive impact on the world.
We hope to see you in Spring 2024 for Cota Connect 2024. 
As seasoned technology founders, operators, and investors, building and scaling great companies is in our DNA.
We understand first hand that the journey of building enduring companies of scale requires tremendous resilience, key relationships, operational support, and trusted advice.
Engagement
Company building is not a spectator sport. We take pride that we are known as active, impactful partners. We have assembled a dedicated team of investment and operating professionals to advise and work alongside our companies. Think of us as both coach and teammate. 
Expertise
The road a company takes in its development is never predictable or easy to navigate. Each phase of growth is characterized by different needs and opportunities. With our extensive operating backgrounds, we help companies anticipate blind spots and find solutions to get past roadblocks. 
Access
To succeed, businesses require access to key relationships at every stage along the way. We offer a vast and high caliber network of relationships that we have cultivated over time. We leverage these industry advisors, domain experts, technology leaders, and other partners to unlock opportunities and open doors for our companies. We know it takes a village.
Insight
Through our multi-stage investing and deep research into both the private and public markets, we are able to offer valuable insights that we can put to work for the benefit of our portfolio companies. We are always questioning our assumptions, seeking out new data, and refining our approach.
Enrichment
Our entrepreneurs are motivated, brilliant leaders with growth-oriented mindsets. We support their growth and development by hosting regular community events, networking, and learning opportunities to advance their knowledge and skillsets.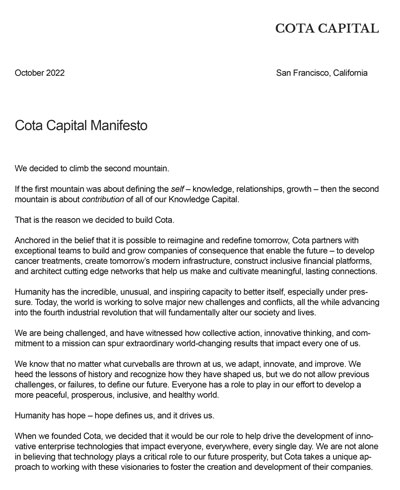 We decided to climb the second mountain. If the first mountain was about defining the self – knowledge, relationships, growth – then the second mountain is about contribution of all of our Knowledge Capital. That is the reason we decided to build Cota.
Cota Knowledge Capital is a combination of deep strategic, operational, organizational, and financial expertise, impactful and data-driven market insights and intelligence, supplemented by a vast industry network that helps Cota's portfolio teams create value and build timeless companies. Cota Knowledge Capital encompasses Cota Advisory, Cota University, and Cota Research.
Cota Advisory partners with our portfolio companies along their journeys, offering deep working sessions on the strategy, operational plan, financial plan, and investment plan.
Cota University offers portfolio teams a curriculum focused on foundational skills critical to building successful companies.
Cota Research plays a key role in both our investment selection process and the success of our portfolio companies, offering competitive intelligence and thematic development.