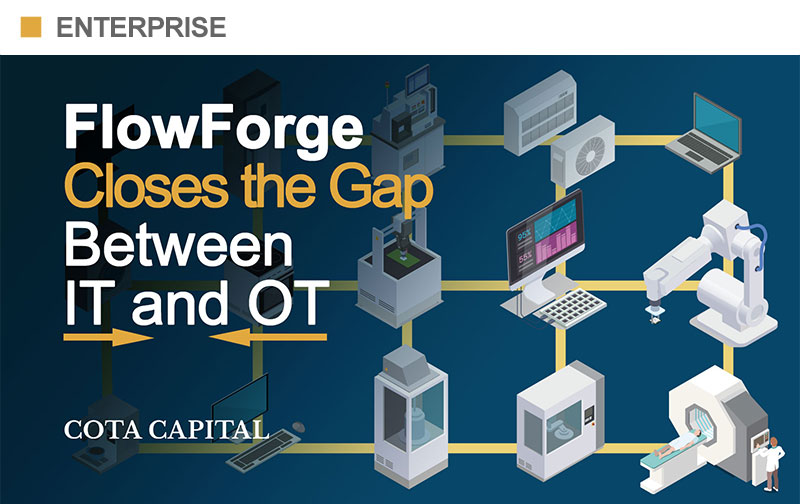 by Adit Singh, Partner
We're thrilled to share the news that Cota Capital led a $7.2 million seed round in FlowForge, an open-source platform-as-a-service that is solving the challenge of IT/OT convergence. Participants in the funding included WestWave Capital, Uncorrelated Ventures, and Open Core Ventures, the venture capital firm founded by GitLab founder and CEO Sid Sijbrand.
Everything these days is a computer or becoming a computer—whether it's cars, factory equipment, thermostats, or heart monitors. But here's the problem. The most creative class of developers, namely JavaScript developers, simply don't have the tooling to access all the new types of computers. They can freely build applications for mobile, cloud and web, but they can't do the same for IoT and Industrial IoT devices.
As digital transformation efforts continue, the number of IoT and IIoT devices is growing exponentially. But the industry does not have the tooling needed by professional developers to innovate on these products. Essentially, these devices are walled gardens that run on their own embedded software and little more. It's very difficult for developers to come in and build innovative applications on top of these devices.
What's more, as organizations transition to industry 4.0, they are struggling to gain significant operational and financial benefits due to the gaps that exist between their OT and IT. Achieving IT/OT convergence typically requires expensive development resources that limit what developers are able to do. What's needed is a way to effectively close the gaps that exist between OT and IT.
That's where FlowForge comes in. FlowForge provides a better way to solve this problem with an open-source, low-code platform. The company is on a mission to help all engineers break free from walled gardens and empower them to build applications for the physical world, not just web applications.
FLOWFORGE BRINGS NODE-RED TO THE ENTERPRISE
At the heart of FlowForge is Node-RED, a well-established OSS project that is part of the OpenJS Foundation. Node-RED is a single-tenant, low-code tool that provides a great user experience for both individuals and enterprise adopters. It already has an ecosystem of over 4,000 integrations created by the community and more than 76,000 people list Node-RED as a skill on LinkedIn, making it one of the world's most widespread programming skills.
FlowForge provides engineers, systems integrators, and control engineers with the ability to quickly bring Node-RED into production, trimming a process that otherwise takes days or weeks down to just minutes. Additionally, FlowForge offers critical features—such as security, multitenancy, and role-based access control—that enable enterprise customers to move to product use. 
The real value that FlowForge brings is providing an enterprise-ready way of managing Node-RED at scale.
FLOWFORGE TARGETS THE WORLD'S LARGEST COMPUTE SURFACE
Cofounded by Nick O'Leary, the creator of Node-RED, and Zeger-Jan van de Weg, an early employee at GitLab, FlowForge aims to bring the benefits of open source to the world of IoT and IIoT, which now represents the largest compute surface in the world.
The company's close engagement with the Node-RED project—many of its founding employees are well-known and active members of the Node-RED community—gives it the capability to build a platform that perfectly complements Node-RED. FlowForge is also able to wield its influence to drive changes in the core project. And its deep understanding of how Node-RED is used allows FlowForge to build the "missing features" that sit just outside the scope of the open-source project.
Being closely aligned with the core Node-RED project also gives FlowForge legitimacy and reputational status that cannot be easily replicated. For companies looking for commercial solutions around Node-RED, FlowForge is truly the no-brainer choice.
We are excited to have invested in FlowForge and look forward to great developments ahead.