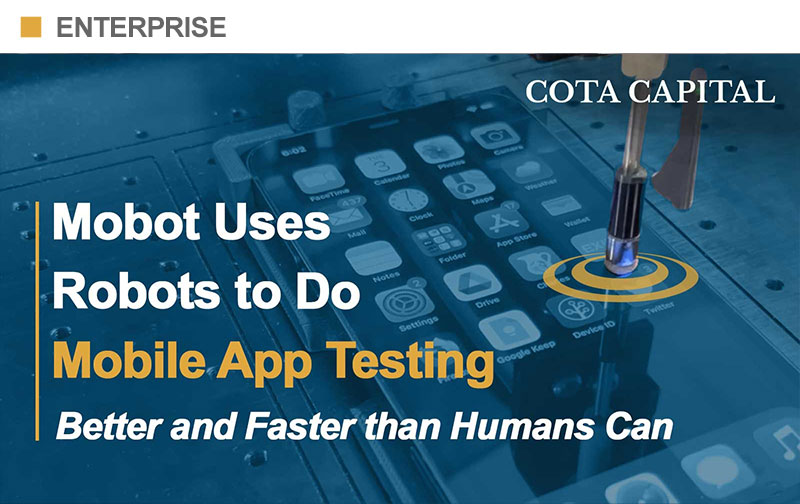 by Adit Singh, Partner
I first met Eden Full Goh, the founder of Mobot, several years ago at Y Combinator Demo Day. I loved her demo and was extremely impressed with Eden herself. But, as a potential investor, I wanted to follow the company for a while and see how well it would be able to execute.
Fast forward several years and Mobot is now setting the standard for the way that mobile apps are tested. With its infrastructure-as-a-service model that combines the best of human abilities with automation using real, mechanical robots, Mobot is revolutionizing the way engineering teams test and develop their products.
I was so impressed with the company's progress over the past few years, as well as the entrepreneurial growth of Eden, that Mobot became the first deal I led when I joined Cota Capital.
Just a bit more on Eden. She is young but she is incredibly wise and already has a history of proving doubters wrong. I'm sure Eden shocked her friends and family when she decided to drop out of Princeton and accept a Thiel Fellowship to follow her entrepreneurial dreams.
Mobot takes a load off app makers
Testing is a huge burden for mobile app developers and any engineer writing software that must support our increasingly fragmented hardware ecosystem. Testing even the simplest app requires an army of engineers to manually write and execute workflows for all the different phones in the world, whether it's the iPhone 13, the Huawei P5 Pro, the Samsung Galaxy Z Fold 3, the Google Pixel 6, the LG G8 ThinQ and countless other models, makes and operating systems.
Your app has to work correctly on all those platforms, especially as software becomes increasingly relevant in the physical world. As a result, engineering teams are often forced to become glorified QA testers, when they would much rather be doing high-level strategic product development and strategy. The reality of mobile is that it requires many people doing manual work to test applications simply because there are so many smartphones and mobile devices out there.
Any solution that makes this process easier would be attractive. How attractive? That's a question I wanted to answer for myself. So, before making the investment, I introduced Mobot to three companies in our ecosystem at Cota. I was amazed to see that, after a few quick demos, all three companies jumped at the chance to become Mobot customers. Personally, I was convinced.
Mobot's mechanical robots automate mobile app tests in a way that other tools, such as emulators and virtual devices, simply cannot. With Mobot, companies can increase test and device coverage, catch bugs that used to slip through the cracks, speed production times and improve the quality of their apps before shipping them to app stores.
Mobot ensures that apps work first time out
What is so striking about Eden is that she had a non-obvious insight about mobile app testing. On the surface, it seems that software should be capable of handling all QA testing requirements. But that's just not the case. Eden created Mobot because she was one of the few who saw the potential of robot-powered mobile testing and understood how big the market could be.
The reality is that building mobile apps is only getting more complex, at a time when consumers have less patience for performance issues. Once an app is released on an app store, it has to work, because most consumers will abandon slow or buggy apps and buy elsewhere. It has to be shipped right the first time, otherwise you're looking at devastating consequences, like lost revenue and customer defections.
When companies build a new app, they want to allocate every dollar of the budget to developers. They can't because QA testing eats up 30% of the typical budget. It's necessary. It's also difficult—and throwing endless bodies at the problem is not a realistic solution.
After all, even if you could afford an unlimited number of QA testers, you would still have problems. QA testers are human, which means that sometimes their work is inconsistent or downright sloppy. Robots, by contrast, never go on vacation, never burn out and always do the job with accuracy and consistency. They can also do the job faster and more efficiently across as many devices and mobile operating systems as needed.
We're excited to be investors in Mobot. When companies use Mobot, their products launch faster and their app store ratings skyrocket. Mobot is a no-brainer because it helps eliminate tedious, manual testing so customers can ship their mobile apps with confidence, every time.