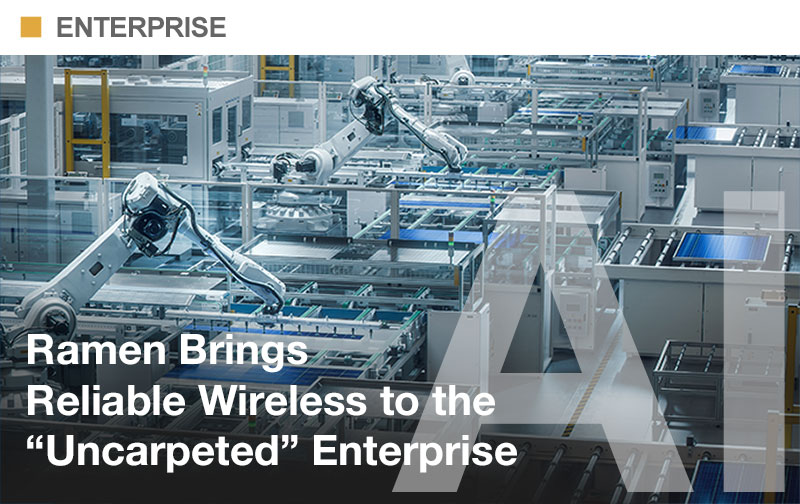 By Adit Singh, Partner at Cota Capital
Ramen Inc. is changing the network game. This cutting-edge startup is enabling reliable connectivity in "uncarpeted" environments like warehouses, factories, shipyards, and refineries. In doing so, it can unlock the full potential of AI and robotics in industrial sectors and, ultimately, power the advancement of the American economy. We believe this is truly a unique technology for quickly deploying and seamlessly running complex wireless networks in rugged, indoor/outdoor workspaces.
Wireless Connectivity: The missing piece
Industrial companies are rapidly embracing the integration of connected devices and equipment to upgrade their supply chains. However, amidst this digital transformation, one crucial element is often missing: dependable wireless connectivity. Without it, network outages can and do inflict a direct blow to the bottom line. This makes secure and reliable wireless connectivity an absolute imperative for the uncarpeted enterprise.
As technology advances at a breakneck pace and cyber-attacks proliferate, the need for all businesses to bolster their wireless infrastructure becomes increasingly urgent. It's especially urgent for warehouses, logistics hubs, shipyards, and other indoor/outdoor businesses, which increasingly rely on robots, IoT devices and other connected systems. Until now, they've had few solutions to turn to. But Ramen aims to fill that gap. It specializes in enterprise wireless connectivity as a service to enable customers to focus on core operations while entrusting the intricate management of their wireless network to a seasoned expert.
Ramen allows industrial businesses to navigate the complexities of wireless connectivity with confidence. As they optimize their supply chains and forge ahead with innovation, they can rest assured in the knowledge that their wireless infrastructure is in capable hands.
What Makes Ramen Special
Ramen's groundbreaking wireless network solution, delivered as a service, can unlock the potential that comes with the deployment of highly reliable, secure and lightning-fast wireless networks in demanding work areas. With those networks, employees, robots and IoT devices can collaborate to perform critical tasks quicker and better.
Ramen's secret recipe is that it offers an option to the conventional carrier-centric approach. Ramen operates using unlicensed spectrum, tapping into the CBRS and Wi-Fi frequency bands in the U.S. This move to private 5G offers a multitude of advantages over the conventional model, in which enterprises have no control over their connection and have to endure lengthy waits for nationwide carrier deployment. With Ramen's solution, businesses regain control of their destiny and harness the advantages of modern cloud/edge computing, which enables them to compete on equal footing with their traditional "carpeted" counterparts.
Ramen's service is specifically designed to address the need for ultra-reliable and secure network connectivity in indoor/outdoor environments, providing the fabric that seamlessly connects equipment, sensors, robots, and the cloud brain. Moreover, Ramen is actively developing operational analytics and compliance-automation solutions that will empower enterprises to adhere to regulations and standards governing worker safety, OSHA guidelines, and other federal and state laws. This commitment to compliance is designed to ensure that businesses can operate within the law while maximizing efficiency.
The AI Advantage
In the era of AI, wireless connectivity has emerged as a crucial component of the digital infrastructure for uncarpeted enterprises. Ramen's infrastructure provides a secure environment for AI applications and devices, enabling real-time monitoring and control. This security framework is instrumental in maintaining data integrity and bolstering overall operational efficiency. By offering such a comprehensive solution, Ramen can empower uncarpeted enterprises to fully leverage the benefits of cloud-based AI while mitigating potential challenges.
Recognizing the importance of collaboration, Ramen is also partnering with leading software companies to host AI-driven workflows on its platform. These workflows encompass a range of critical functions, including predictive maintenance solutions, real-time inventory tracking and demand forecasting. By integrating these best-of-breed software solutions, Ramen strengthens its offering and empowers enterprises to optimize their operations and make data-driven decisions that bring success.
What's more, the installation process for Ramen's solution is remarkably straightforward. It seamlessly integrates hardware, software and orchestration to enable effortless collaboration with AI-enabled devices.
Proven experience
An important factor in Ramen's ambitious vision is the top-notch team building the company. Co-founders Partho Mishra, Sanjay Kasturia, and Prashant Kumar all have deep technology and business expertise in enterprise infrastructure, security and wireless. Partho was previously President and Chief Product Officer at Cumulus Networks, which was acquired by Nvidia. Sanjay developed two generations of Wi-Fi technology at Qualcomm. And Prashant was previously a Co-founder and VP of Product Management at 128 Technology, which was acquired by Juniper.
Final thoughts
The ability of Ramen to serve the unique needs of uncarpeted environments, along with its emphasis on reliability, security, and compliance, sets it apart in a crowded market. We believe Ramen will not only revolutionize the wireless connectivity landscape but also empower businesses to thrive in an increasingly digital, interconnected, and challenging world.